Research
My book project, based on my dissertation research, is the first study of Latinx graphic life stories. It addresses the gap in scholarship on graphic memoirs and comic biographies by and about Latinx people. I compare four graphic narratives, two biographical comics, Who is Ana Mendieta? (2011) by Christine Redfern and Caro Caron, and Ghetto Brother: Warrior to Peacemaker (2015) by Julian Voloj and Claudia Ahlering; and two graphic memoirs, Spit and Passion (2012) by Cristy C. Road, and Darkroom: A Memoir (2012) by Lila Quintero Weaver. As Latinx cultural products, I explore how all four narratives deal with social movements that have taken place throughout the United States, spanning the 1960s-1990s. I contend that each comic is deeply situated in various social moments of U.S. history. My manuscript further explores how each of these graphic narratives uses the genre of life writing to reflect the cultural and societal flux of the time.

I participate in the shift in comics studies scholarship that engages in gender studies and critical race theory. The narrative capabilities of Latinx graphic memoirs and comic biographies reclaim a Latinx subjectivity in the United States that presents the multiplicity of Latinx stories. My project places Latinx identity and subjecthood formation within a cultural, literary, and visual context. I argue that a comparative examination of these graphic narratives reveals how they contest dominant histories that either erase U.S. Latinx communities from social movements or characterize them as passive participants of history. Reading these four books together reveals how they present a counter-narrative of Latinx experiences in the United States. The counter-narratives that they offer are significant because they show the variety of Latinx identities while also speaking to the specificity of each group's struggle.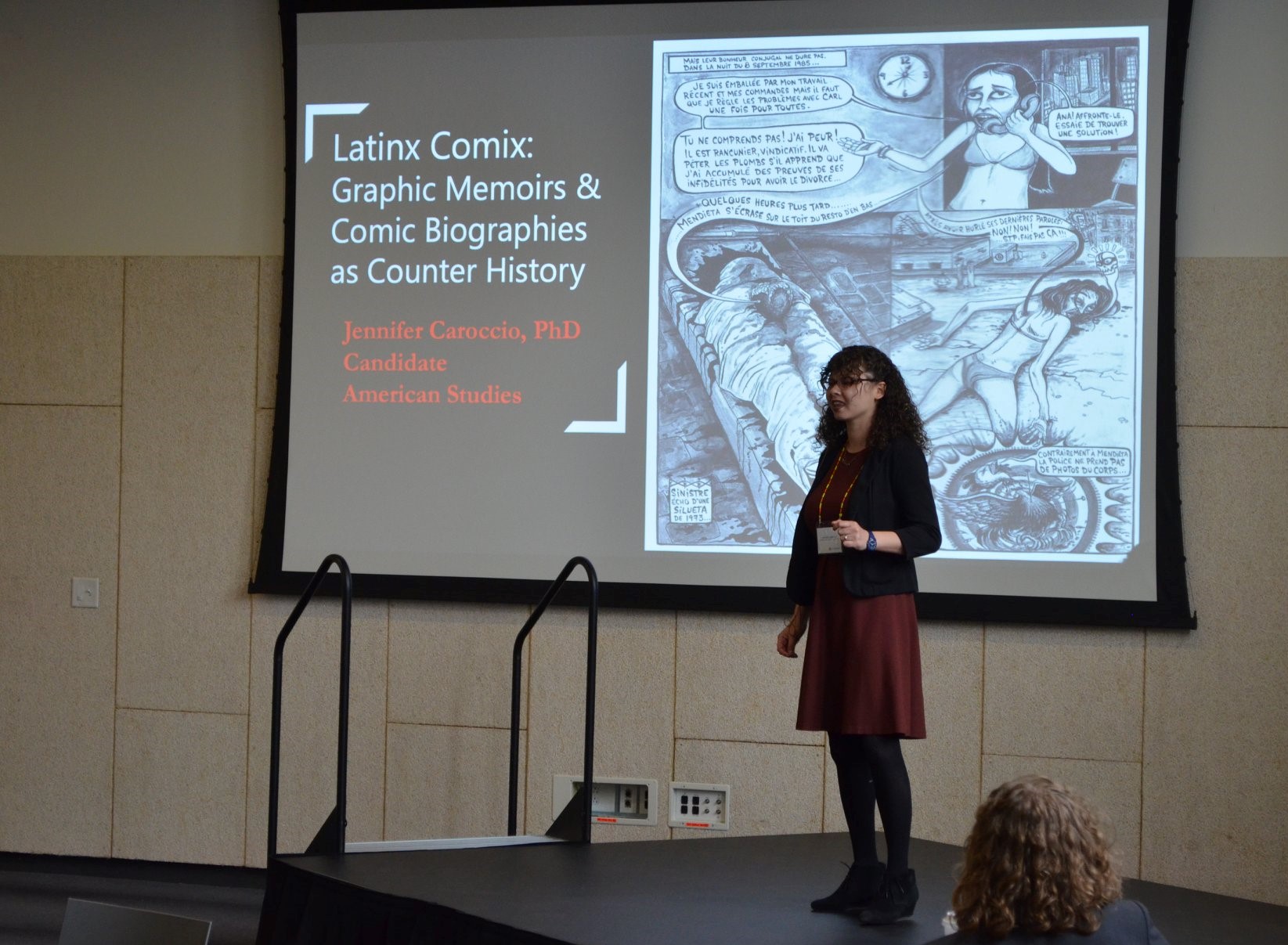 Competing in the 3-Minute Thesis. Photo from P3 Collaboratory, RU-N.
I have presented sections of my dissertation as various regional and national conferences.
First Place Winner and "People's Choice" in the 3-Minute Thesis competition at Rutgers University-Newark, April 2019.
"Out of the Window and Through the Panels: Re-Membering Feminist Art in the Comic Biography Who is Ana Mendieta?" New Directions in Cuban Studies, University of Miami, Miami, FL, October 2019